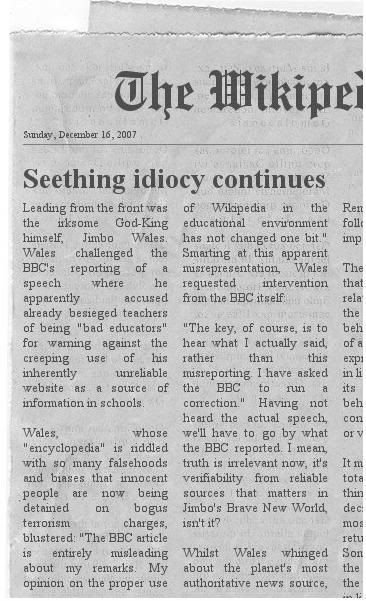 If 2006 was the year when unaccountable Wikipedia cliques consolidated their hold on the site, then 2007 was the year they started to bully the rest of the Internet into submitting to their cultish practices. Having watched them spend the year trashing critics foul or fair and removing links to dissenting voices to hit google rankings where they hurt, most of us had seen enough.
Much to our encouragement, 2007 was also the year the rest of the Internet began to fight back. And so successful has this been that we end 2007 on a festive high. Not only have Google arrived like the Naval Officer at the close of Lord Of The Flies to promise an escape from the spiraling barbarism on Jimbo's fantasist island, the media have stepped off the boat to tell the world what really happens when the parents aren't around.
Yet a couple of weeks into a series of devastating revelations about the site's corrupt core, rather than engage in soul searching reassessments, floundering Wikipediots continue to respond in the only way they know how — by attacking the source.

"I have asked the BBC to run a correction"
Leading from the front was the irksome God-King himself, Jimbo Wales. Wales challenged the BBC's reporting of a London speech where he apparently accused besieged teachers of being "bad educators" for warning against the creeping use of his inherently unreliable website as a source of information in schools.
Wales, whose reputation stands on an "encyclopedia" so riddled with falsehoods that innocent people are now being detained on bogus terrorism charges, blustered:
"The BBC article is entirely misleading about my remarks. My opinion on the proper use of Wikipedia in the educational environment has not changed one bit."
Still smarting at this apparent misrepresentation, Wales requested intervention from the BBC itself:
"The key, of course, is to hear what I actually said, rather than this misreporting. I have asked the BBC to run a correction."
Not having heard the actual speech, we can only go on what the BBC reported. I mean, truth is irrelevant now, it's verifiability from reliable sources that matters in Jimbo's Brave New World, isn't it?
While Wales whinged about the planet's most authoritative news source, his minions were deleting the biography of co-founder and vice president of Wikia Angela Beesley from his ailing site after complaints from Beesley herself that it had "become full of lies and nonsense." We celebrated her freedom from tyranny having long sympathized with her position. We too think that her encyclopedia is full of "lies and nonsense".
Send Mike Godwin after them
Elsewhere, stories exposing Wikipedia's malpractices rained down. Already gripped by churning paranoia, the Wikipediots went on the offensive in spades to attack those nasty critics. Next in the cross-hairs was The Guardian, another bastion of the British media establishment, that had carried a column critical of Wikipedia's latest sordid shenanigans written by none other than our comrade in arms, Seth Finkelstein.
People like Seth who just don't get the Wikipedia experience need to be chastised by the rampant mob of Wikicultists whose Year Zero Revolution casts a pall over the whole Internet. Wikipedia adminion "Swatjester", a member of the Wikimedia Communications Committee and former legal intern for the Wikimedia Foundation raged:
"Sometimes I wonder why the foundation doesn't send Mike Godwin [Wikimedia lawyer] after nonsense like this."
We at the Review recognized this type of thing immediately. It's called an attempt to quash any criticism. "Swatjester" denounced Seth's "ethics" in a blog post called "Wikipedia Haters", before declaring The Guardian newspaper a tabloid and dismissing it as an unreliable source. Seth blew raspberries back, probably the wisest course of action available.
For Swatjester's benefit, or any other jarhead who remains oblivious to civilized society, The Guardian was a broadsheet established in 1821, that has grown to become one of the most respected media groups in the world. But not content with slating the morals of Seth and The Guardian, "Swatjester" concluded that the U.K. itself was to blame, despite its stringent anti-defamation laws and famously rich media-literate culture :
"The UK has a long history of accepting tabloid journalism as not only normal, but recommended. It's something that bears more investigation and consideration than I have to give at the moment, but it is both chilling and telling of the state of misinformation in the world today."
We look forward to reading the results of Swatjester's investigations. In the meantime, we'll continue to investigate Wikipedia's "ethics" and publishing standards. Oh and as for the state of misinformation in the world today, don't get us started.
"Piece of shit Register story"
Finally, the most aggressive Wiki-vitriol was reserved for The Register, the British organ that had been the source of the exposés covering only a fraction of the lurid descent that we Reviewers observe on a daily basis. San Francisco based journalist Cade Metz had done his homework, producing three stories for The Register that rightfully outraged the web but had the Grand Wazoos of the Wiki-cult spitting goose feathers. Metz's pieces were accompanied by two marvelous Andrew Orlowski op-eds that should be read aloud at Midnight Mass come the Holiday season.
Without further ado, we'll play you out with a selection of Wikipediot responses to The Register's long overdue exposés. We recommend running Silent Night softly in the background for maximum effect, followed by a prayer that with Google's announcement, a savior is born:
"The Register piece is clearly not reliable". Guy Chapman.
"Cade is not a reliable source here. The source for this piece is polemical, not reliable, and the criticism is unfounded". Guy Chapman.
"its clear that this isn't the work of a neutral journalist, this is the work of someone with a axe to grind". "Rockpocket"
"His muck-raking is beneath contempt. Did you steal Cade Metz's wife or something, Jimbo" "Rockpocket"
"I would tell you what I really think of Cla68's piece of shit Register story, but I'd probably get blocked for it". Guy Chapman.
"I'm dismissing him because his obvious bias has led to gross misrepresentation in the recent past". "Rockpocket"
"It's utterly useless as a source because it presents a highly selective view of only one side of the dispute" Guy Chapman.
"Worthless source, though. It is completely unreliable, repeats Bagley's lunatic ravings as fact". Guy Chapman.
"we should not link to biased and polemical sources which state falsehood and uninformed opinon as fact and represent only one side of a story" Guy Chapman.
"Both the Register pieces are clearly polemical, the followup parrots Bagley's lunacy completely uncritically and taken together they demonstrate a strong agenda on the part of one journalist." Guy Chapman.
"The Register piece is almost entirely fabrication and conspiracy theorising". Guy Chapman.
[FADE OUT]

4 Responses to 'Attacking the source : Wikipedia vs The Internet'
Leave a Reply