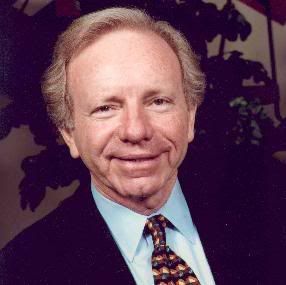 Thanks goes out to The Review's resident business brain, Selina for highlighting Jimmy Wales's appearance before a US Senate committee in December to discuss the potential of the New Internet Technology for the US government. The committee sat through a session of the usual Mimbo-Jimbo, including Wales's announcement that Wikipedia was "a carrier of traditional American values". An enthusiastic Senator Joe Lieberman (pictured), who chaired the committee, introduced the irksome God-King with these words:
"We're very glad to have as a witness Jimmy Wales the founder of Wikipedia, one of the most thrilling examples of what collaborative technology can produce. And we've asked Mr Wales to take us through some of the ideas behind Wikipedia."
Due to the ideas behind Wikipedia, articles are constantly being reshaped by Wikipedians with information appearing and disappearing all the time. At any given moment, an article could carry new information never before seen, or it could be lacking in information that had been present in the article for years. The reader must learn to understand this new dynamic collaborative technology - which offers great potential for us all!
Jimmy Wales, who in contrast has his article permanently locked and fully protected from damaging mistruths at all times (see that little lock symbol in the corner), was kind enough to extend the same protection to Senator Lieberman's biography — for six hours while the hearing took place. After Jimmy had left the building, Joe's biography was unlocked and the dynamic collaborative process resumed in earnest. The article subsequently stated that Lieberman was a "flaming homo" and a crossdresser for the rest of the day.
Some "Wikipedia facts" about Senator Joe Lieberman
Senator Lieberman wanted to hear some "thrilling examples of what collaborative technology can produce" from Wales. Below is just a small sample of the many interesting factoids that have been present in Wikipedia's article on Senator Lieberman himself. Some were in the article for 20-30 minutes at a time, others for much longer:
(Update January 11 : A keen-eyed reviewer since discovered that a dubious entry regarding Lieberman's "underpayment of federal taxes" had been present in the article in various forms from 18 July 2006 to 21 December 2007, meaning it was present during the hearing. Jimmy Wales, who launched the for-profit Wikia Search Engine this week, continues to have his own biography locked and protected from similar activities.)

7 Responses to 'Mr. Wales goes to Washington'
Leave a Reply