Archive for the 'Administrators' Category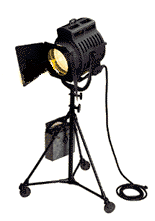 It's all about the Drama. For serious contestants, Wikipedia is WP:NOT an encyclopedia, but a Massively Multiplayer Online Role-Playing Game (MMORPG.) We here at the Review are doing our part by polling members of our own Academy to determine which contestants should be recognized for a truly stellar performance. Each year, when Awards Season rolls around (the Oscars, the Screen Actors Guild, the Golden Globes, etc.) we host the ceremony that is claiming an increasing share of the public's attention(citation needed), the Wikipedia Review WP:DICK of Distinction Awards Pageant.
2006
The first polling took place in 2006. That year, the coveted award for "Most Abusive Admin" went to SlimVirgin, providing an important boost to her career and helping to propel her to notability.
2007
In 2007, the members of the Academy adopted the name "WP:DICK of Distinction" for the award to be given to the most abusive performance by an admin, along with a virtual statuette called the "Jimbo." Other  new categories were adopted for recognition of outstanding contestants. Here are the results:
The final results are in for the 2007 WP:DICK of Distinction polling. In an amazing eleventh-hour upset victory, Cyde (17 points) takes the honors, with SlimVirgin (16 points) making a strong showing in the runner-up position. Third place goes to Will Beback (5 points,) with Zoe in the fourth position and Jayjg in fifth.

Despite her narrow loss to Cyde, SlimVirgin has continued to be a real juggernaut in the WP:DICK competition, with a unique style and an aggressive, take-no-prisoners sportsmanship that has inspired numerous Fan Sites like this one.

The buzz around tinseltown is that next year Jayjg may be up for a Best Supporting Admin, due to his acclaimed work with SlimVirgin in the tag-team POV Pushing events. Critics are comparing their interplay to some of the all-time great "buddy movies" like "Lethal Weapon." Hey, look! Wikipedia actually has an article on buddy cop movies!

SlimVirgin also swept the Miss Incongeniality Pageant, after Kelly Martin was disqualified for not being a current admin, in a move that brought inevitable comparisons to East German olympic athletes. The competition for second place was intense, ending in a three-way tie between Will Beback, Radiant and Fred Bauder.

The Straight Shooter Award, for admins that actually try to play a constructive role, this year was awarded jointly to Ashibaka and Tawker, who received equal votes in the polling. Mailer Diablo came in second, with Honorable Mention for Antadrus, FCYTravis, Firsfron, and Rama's Arrow.
2008
The following year, in 2008, interest in the awards pageant swelled, and new categories were added:
…and, the top award in the 3rd Annual WP:DICK of Distinction awards pageant goes to:

JzG! (cue theme music)

JzG is a perennial favorite, here at the Review. He has plenty of colorful idiosyncracies, such as his celebrated Big Boob edits, and has also taken a strong interest in our work. So, it gives me great pleasure to present this year's Jimbo® statuette to JzG.

In a dramatic eleventh-hour rally, the ever-popular SlimVirgin edged out Jayjg for the silver medal in the WP:DICK competition, winning by a scant 2 points. SlimVirgin and Jayjg, both fierce competitors, will nonetheless go back to regular collaboration on Wikipedia projects of mutual interest, demonstrating to a whole new generation of young Wikipediots the true meaning of sportsmanship.

In the other categories, the competition for the Miss Incongeniality award was tremendously close, but in the end, JzG came from behind and emerged from the pack to claim the honors. This is clearly the year of JzG!

In the Tag-Team Event, the competition was dominated from the start by the power-team of SlimVirgin and Crum375, known to their legions of fans as Slum.

Finally, in the much-talked-about Straight Shooter event, we have encountered a bit of a SNAFU in this year's pageant, undoubtedly due in some way to the recent writers' strike which is now over, thank god. Due to improper vetting of nominees by the sole member of our Program and Catering Committee, nominees were accepted who were not Wikipedia admins, and by definition, the Straight Shooter Award goes to the most honest admin. So, the P and C Committee pulled an all-nighter and came up with the following solution:

* This year's Straight Shooter award goes to Alison, who was far and away the top vote-getter among admins. The runner-up honors go to Viridae, who as it turns out is still indeed an admin.

* For the two nominees who got a tremendous response from the Academy despite the fact that they are not admins, we institute the Cojones de latón award, which we proudly present to Giano, with the runner-up award going to Cla68. These gentlemen have distinguished themselves by a valiant opposition to the cabal, conducted with élan and razor-sharp argumentation.

So, in conclusion, hearty congratulations to all our nominees. You all looked great on the red carpet (especially you, David Gerard,) and may the next year be equally productive for everyone!
2009
The 2009 awards were a sensation, in part because the budget of the Program and Catering Committee was doubled, and we got much better graphics. Here are the results:
This year's winner is renowned for his keen fashion sense, as well as his incandescent charm and sterling sense of fairness and justice. We proudly present this year's Jimbo® statuette to:

David Gerard!

In a real cliff-hanger of a match, David squeaked ahead of the runner-up in this year's competition, FT2, who put up a spirited fight. We expect great things of FT2 in future competitions.

Deep in the catacombs beneath the Wikipedia Review, there is a vast chamber, from which may be heard the eerie cackling of Somey as he labors over his image editor/avatar generator. It is said to be like a cross between Vulcan's Forge and one of Dr. Seuss's contraptions. It is here, they say, that Somey produced the new, 2009 model Jimbo® statuette.
And now, before proceeding the the winners in the other categories, we'd like to present this...




Lifetime Achievement Award

to

PoetGuy!

PoetGuy delighted Wikipedia fans, and in particular, those of us at the Review, with his outstanding performance in innumerable sockpuppet roles, literally, a cast of thousands (known to the cognoscenti as "PoetHorde.") As the pert coquette "Poetlister," he became for a time Wikipedia's most celebrated martyr, believed to have been unjustly banned for socking. When the truth of his culpability came out, PoetGuy was disgraced. His old nemesis SlimVirgin wrote a self-righteous tome in which she made PoetGuy the center of a vast conspiracy against herself, and attempted to make his disgrace into her vindication. However, among members of the Academy, PoetGuy's performances in such a wide array of roles deserve to be recognized as the pinnacle of his craft, right up there with The Three Faces of Eve.

Let's take a minute now to remember PoetGuy's contributions to the Review. (roll clip) As Poetlister, he was named by Lir to be an admin at this site. The Poetlister character enchanted us with her endearing fantasies, including a fake wedding and honeymoon on a romantic isle, embellished with images from From Here to Eternity. Then there was Guy, the stuffy, proper Englishman with a heart of gold and an obsession with Christian Zionism. Guy became a moderator here. He had a faithful, putatively Jewish companion, Yehudi. And finally, there was the flip side of the stuffy, proper Englishman, in the form of the ever-popular Taxwoman, who was raunchy, babelicious, and an expert on the London Fetish Scene.

So, for having generated unforgettable drama at Wikipedia and across the wide, wide interwebs, the 2009 Lifetime Achievement Award goes to PoetGuy!

…and now, back to our regular awards presentation: the Straight Shooter award for most ethical admin goes to Thatcher, who made a very strong showing, thanks in part to a ringing endorsement from this year's runner-up, Cool Hand Luke (who is actually now an Arb.) Cool Hand's nom de Review, of course, is One.

The Cojones de latón, for the non-admin who has distinguished himself in combat with the cabal, goes to Cla68, who was last year's runner-up. This year's runner-up is The Fat Man Who Never Came Back, who was particularly recognized for his lethal use of humor on the battlefield.

In the Miss Incongeniality department, Elonka and JzG wound up in a dead heat, so they will be sharing the honors. This marks the second year in a row where JzG has made it to the top — his incivility is legend! And Elonka makes her debut sharing the number one spot.

Finally, in the Tag Team Event, the award goes to Odd nature, Salmon of Doubt, KillerChihuahua, Jim62sch, Mu301 and FeloniousMonk, also known as the ID (Intelligent Design) Cabal.
Congratulations all around, and we'll see you next year on the red carpet!
2010
Now, let's take a look at the 2010 results:
Tonight's the night!
Another year has gone by, and it's time to honor those Wikipedia admins and peons who made 2009 a year to remember.
But first a note from the Program and Catering Committee: in this moment of almost certainly temporary, slightly embarrassing but no-big-whoop economic depression recession, we have been inconvenienced by budget cuts, and consequently have found it necessary to re-use some of last year's images. As luck would have it, many of the same people won this time around. The buzz-word for 2010 is "sustainable" — we are making the WP:DICK of Distinction Awards Pageant a "sustainable" event. Also, in deference to SlimVirgin, we would like it to be known that no animals were harmed in the course of making this year's WP:DICK of Distinction Awards Pageant. Staff and moderators of the Wikipedia Review are not eligible to compete in the WP:DICK of Distinction Awards Pageant, like they're not all banned from Wikipedia anyway.
So… let's get started, shall we? We'll proceed straight to the main event, the WP:DICK of Distinction, for the most appallingly corrupt performance as an Admin. And the winner, for an unprecedented two years running, is…
David Gerard!
David epitomizes the style, the glamor, the elegance, the class, the je ne sais quoi that marks a true winner in the WP:DICK competition, and to David goes the Jimbo® for the second year in a row.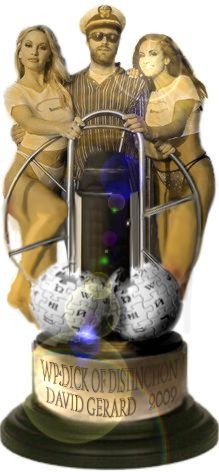 The honors for Runner-Up DICK go to a contestant who has been an important player on the WP circuit for some years, the ever-popular William Connolley.
But wait, there's more…
In the competition for Miss Incongeniality, for the most colorful and persistent violations of WP:CIVIL, the winner is…
David Gerard!

… with Honorable mentions going to William Connelley and to Chillum AKA "H" AKA "HighInBC" AKA "Until(1==2)", who both gave Dave a run for his money.
Now, in the Tag-Team event: this year, this event was swept by two veteran competitors who came out of retirement to take the honors: SlimVirgin and Will Beback!
The Straight Shooter award, for honest admins, goes to Alison, who also won this category in the 2008 competition.
And finally, the Cojones de latón, for non-admins who have displayed wit and valor in combat with the Cabal, goes, for the second year in a row, to Cla68.

Congratulations all around, and we'll see you next year on the red carpet!

As part of our continued series highlighting some of last year's most illustrative exchanges at The Review, we present this post from The Review's resident Orwellologist, JohnA.

______________________
Wikipedia Administrator : Believe it or not, some of us do stuff other than push POVs and hang out on AN/I. A lot of admin work is pretty dry and boring.
JohnA : I believe you. However you are being exploited to provide free labor in return for supporting an enormous enterprise because having sacrificed so much, it's difficult to walk away from.
Once you realise that you want a life where someone isn't turning your house and garden over every five seconds 24 hours a day 365 days a year, then you'll start to dislike Wikipedia. Then you'll feel like quitting. Then you'll pick one final fight. Then you'll sit in a darkened room and decide whether to go for "blaze of glory" or just walk away into the night.
It's a labor of love, right until the moment you realise that the project and most everyone else, could not give a shit about you and what you've sacrificed for it. You've sacrificed so much but the returns will diminish and the "sysop"* bit will mean less and less emotionally and intellectually.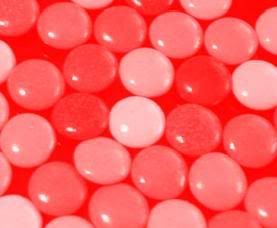 Oh and Jimbo Wales is making money hand over fist because of Wikipedia while you get nothing.
One day, you'll wake up and realise that what seems like cynicism or vindictiveness on my part today, is nothing more that the unvarnished truth, the red pill that most of us here took some time ago.
______________________
(* Wikipedia Administrator / System Operator)

(This post was submitted to the forum by The Review's resident Troubleshooter, Gomi, on January 1, 2008)
Gomi: For the New Year, I decided to attempt to compile a list of Wikipedia Review's criticisms of Wikipedia. I have tried to approach this broadly — I don't agree with all of these myself, but this is my view of the complaints that come up over and over again. One thing that is clear, after looking at Wikipedia for several years, is that these problems are not getting better, they are getting worse.
Wikipedia Content
1. Wikipedia contains incorrect, misleading, and biased information. Whether through vandalism, subtle disinformation, or the prolonged battling over biased accounts, many of Wikipedia's articles are unsuitable for scholarly use. Because of poor standards of sourcing and citation, it is often difficult to determine the origin of statements made in Wikipedia in order to determine their correctness. Pursuit of biased points of view by powerful administrators is considered a particular problem, as opposing voices are often permanantly banned from Wikipedia. Wikipedia's culture of disrespect for expertise and scholarship (see below) make it difficult to trust anything there.
2. Wikipedia's articles are used to spread gossip, abet character assassination, and invade the privacy of the general public. So-called "Biographies of Living Persons" are often the result of attempts by powerful but anonymous editors and administrators at humiliating or belittling those real-world people with whom they disagree. Wikipedia's "anyone can edit" culture has allowed baseless defamation of various individuals to spread widely through the Internet. When the family, friends, associates, or subjects of these biographies attempt to correct errors or insert balance, they are often banned from Wikipedia for "Conflicts of Interest". Subjects of these hatchet jobs usually must resort to legal action to get the articles removed or corrected, a course not available to all.

Something monumentally offensive has happened this week on Wikipedia, and the powers that be are trying to sweep it under the rug. All Wikipedia critics should take this excellent opportunity to write letters to the Editors of their local and regional newspapers, and to contact their elected officials. The public opinion of Wikipedia can and should be changed by these six simple points:

Truth and fact are at the core of an encyclopedia, be it "user-edited" or otherwise. Wikipedia is hollow at the core, because it subordinates truth to consensus and a passive compliance that it calls "civility." This flaw has crippled its credibility, and will continue to do so as time marches on.
A thicket of Wikipedia "pillars," "policies," and guidelines give lip service to the truth, but the reality is different: Wikipedia's users routinely remove verified facts from articles, and their actions are routinely upheld by administrators. As a result, no Wikipedia article can be considered reliable by its reader.
This is increasingly apparent in colleges, which have begun to forbid students from citing Wikipedia in their research. The general public is catching on as well, as a consequence of a series of revelations including a senior Wikipedia administrator's fabrication of academic credentials (with the knowledge of Wikipedia's founder, Jimmy Wales) and the revision of encyclopedia entries by corporations and government entities… Read the rest of this entry »

No, of course not!
That's the simple answer, at least. After all, Wikipedia's User:Jayjg is Bad News Personified: He's a POV-pushin', article-ownin', checkuser-abusin', personal-attackin' son-of-a-whatever. And what's more, he does it all completely anonymously. In effect, he's the epitome of Wikipedia's most questionable aspects, and yet he can hardly be said to be "getting away with it" - he's at the center of a disproportionate number of nasty incidents that occur on Wikipedia, embattled, criticized, bashed, and targeted by pro-Wikipedians and anti-Wikipedians alike, on a near-constant basis. Very few people actually like him, sort of in the way nobody ever likes the dictator's right-hand man, even while everyone seems to think the dictator himself is a "pretty good guy."
And yet, I can't help but feel rather sorry for him. Why is that, I ask myself? Read the rest of this entry »

Yesterday Wikipedia Review's RSS feeds picked up on an interesting news article titled Wikipedia and the Intelligence Services: Is the Net's popular encyclopedia marred by disinformation? written by Ludwig De Braeckeleer for OhMy News International. This article was picked up by no less than 3 of our RSS feeds [1] [2] [3] and seemed to be relevant. This was a news story that seemed to be of a similar stature to the Seigenthaler Sr. vandalism controversy, the Essjay lying about his credentials controversy, the creation of Wikitruth (administrators disastisfied with Wikipedia), and of course the Wikipedia administrator suspected by school campus police of being a murderer (later changed in to "police harassment"). All of these cases had Wikipedia articles created about them, and all of these cases had first been uncovered on Wikipedia Review. Yet on none of these occasions would Wikipedia admit that Wikipedia Review uncovered them. In this case, however, the main set of information was posted on Wikipedia Review, and used as the basis for this case, so surely this time they will admit it?

The internet has always been a favorite place for those who enjoy the odd bit of irrational hyperbole now and again, along with the occasional complete breakdown of logic, and of course the ever-popular just-plain-wierd utterance. (Disclamer: The Wikipedia Review isn't immune to this, though there's nowhere near as much of it here as we've been accused of having - at least in some quarters.)
Hardcore users and administrators on the English Wikipedia have a variant of the English language all their own, full of acronyms and jargon, as well as some rather creative redefinitions of popular terminology. Read the rest of this entry »