Depending on how much you care to know, you can bail out after making it through the short version of this story, or you may stick around for the long version, which will include all the details of how I know what I know.
The short version
On January 21, 2008, User:Samiharris was using the IP address 151.202.103.104.
On January 21, 2008, Gary Weiss was using the IP address 151.202.103.104.
Given this is a Verizon residential dsl account, which assigns a single IP per subscriber, we can safely conclude that Gary Weiss and Samiharris use the same computer, and are most likely the same person.
The long version
Gary Weiss is an idiot, but he's not stupid. So he's learned to use
Proxify
any time he visits a site he's unsure of. Matching his IP to Samiharris', therefore, would require coaxing him to a site
au naturel
, both as Weiss and as Samiharris, in the relatively short period of time in which his dynamic IP would likely remain unchanged.
I, editing as
User:Post Doctorate y-o-y
(so named because anybody doing post-doc work must certainly, and regularly, ask themselves "why, oh why am I still in school?!") engaged Samiharris in a discussion over inclusion of some facts he (Samiharris) clearly wants to keep out of the article on Patrick Byrne. It happened in a very out-of-the-way place (Post Doctorate y-o-y's
brand new talk page
), where nobody else was likely to notice it.
EDIT:
They blanked that talk page in record time, so I've substituted a cached version of it here.
In the process of making my case, I invited Samiharris to read an article (which is not otherwise available freely online, btw) on a website that a friend can monitor. To put Samiharris at ease, and maximize the chance that he'd go there directly instead of anonymizing first, the link was presented as a Webcitation.org cache of the page, created that day and linked to by no other source.
Because Webcitation maintains the original html of the pages it caches, viewing it would still trigger the embedded ActiveMeter script.
Only one person visited the link that day, and the timing of the visits coincides precisely with Samiharris' posts on the topic.
A screenshot of the resulting pings (he visited twice) is here: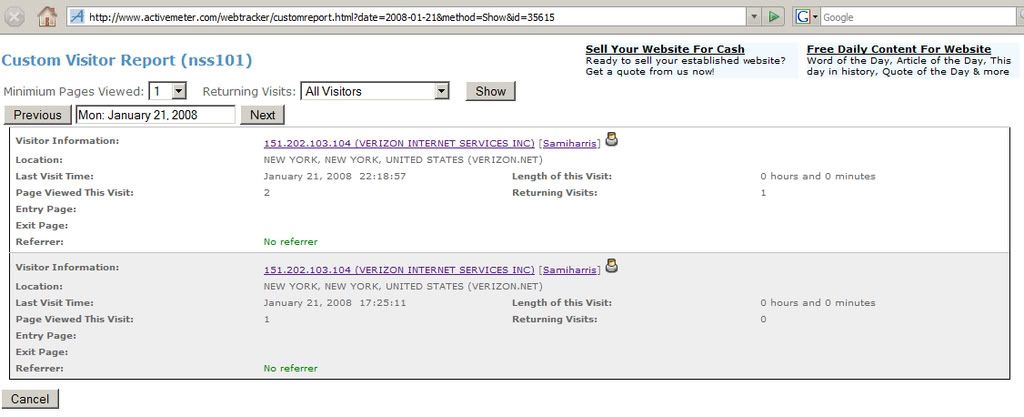 At that point the challenge was to quickly capture Gary Weiss's IP, sans anonymizer.
Like Webcite, the
Wayback Machine
caches a page's html intact, also including any tracking scripts that might be present. But for some reason, most anonymized browsing of past versions of pages captured there is not allowed.
So, I arranged for Gary Weiss to receive email from somebody encouraging him to visit an archived version of a website that I used to own, promising that he'd find damning information about me there. I knew that when (not if) Weiss followed the link, it would be while not anonymized, triggering another ActiveMeter account which I am also able to monitor, though the old version of the site is long gone.
I was correct and a screenshot of the resulting ping from that visit is here:
I doubt this comes as much of a surprise to anybody, much less Jimbo. But we'll see what happens from here...whether Wikipedia manages to police itself for once, or whether I need to work this out in the media again.